Trent River
Our Website will enable you to search for Homes for Sale in New Bern, Havelock, and Oriental.
There are Hundreds of Real Estate Brokers in the New Bern area. Why would you choose the Tyson Group?
Click Here to find out why!
---
Hello. My name is Steve Tyson and I have spent much of my life enjoying the beautiful waters of the Trent and Neuse Rivers. The picture shown above was taken of me on the Trent River. This was the first time I had skied in about 30 years and while it was not pretty, I did get up. The Trent River is perfect for skiing as it is deep, wide, and protected.
This picture is boaters having fun on a tube. If you enjoy water sports you will love the Trent River.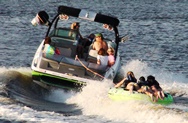 ---
The Trent River begins as a small narrow stream about 15 miles south of Kinston, N.C., and ends its journey in downtown historic New Bern, NC where it converges with the Neuse River at Union Point. The picture on the right was taken somewhere in Jones County where the river is about 50 feet across. In Historic downtown New Bern it is about 1/2 mile wide.
The Trent River may not be as voluminous as its sister river the Neuse; however it is every bit as majestic in it's own right. If you don't believe me ask Roscoe and River, my 2 dogs who live on the Trent River with my wife and I.
Fishing in the Trent
The Trent River is more inland than the Neuse and therefore the water is less brackish. As a result, the fish found in the Trent are more common to the fresh water rivers of Eastern NC. Bass, catfish, and Bream are commonly caught and fishing tournaments are held throughout the year.
to learn about the Trent's sister river, The Mighty Neuse.
---
Boating on the Trent
The Trent River is perfect for a variety of water sports such as leisure boating, tubing, water skiing and jet skiing. Protected from the winds you will usually find glassy waters which permit the young and adventuresome to enjoy boating on the Trent on hot summer days.
Enjoy kayaking or canoeing? Click below for additional information.
Steve Tyson is a certified E-pro. Only 4% of Real estate Brokers have achieved this certification.
Can you afford to buy a house? The chart below shows current interest rates.
Now that you know the interest rate, plug it in to the calculator below to see what your principle and interest payments would be.
Want to know if you qualify for a loan. This calculator will help
Pay off your loan quicker. Check out this calculator